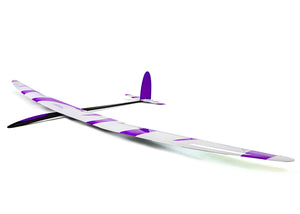 F3J Voyager - White & Purple
Sale price Price $2,299.00 Regular price $1,999.00 Unit price / per
Carbon Fiber Glider with signature swirl design in Purple.
F3J is constructed of ultra premium carbon fiber with a 157" wing span. Kit includes  three-part wing, two-part fuselage, elevator, stabilizer, two horns, plug-n-play, two carbon rods, hardware and a building guide to build your F3J Voyager.
LIST OF PARTS & STATS:
Wingspan: 156 in. (3962mm)
Wing Area: 83.6 dm2
Airfoil: Voyager18
Length: 76in. (1930mm)
Weight: 46 oz (1301g)
Controls: Elev, Rud, Ail, Flaps
Features: Two part fuselage  two part Cross Tail 
Parts: Plug-n-Play, two carbon rods

Basic parts that are needed.
2  Blue Bird 115HV Servo
4  KST Digital Servos
4  IDS with frames